While aging is a natural process its effects on your health, appearance, and overall vitality can be detrimental. Anti-aging supplements help to stave off the effects of aging by stimulating the body to produce more of the Human Growth Hormone (HGH).
SeroVital HGH is a dietary supplement that slows down the effects of aging using a Renewal Complex that stimulates HGH production.
What is SeroVital HGH?
SeroVital HGH is a supplement formulated with amino acids, vitamins, and minerals that help reverse the effects of aging.
SeroVital acts by stimulating the body to produce the Human Growth Hormone. This hormone is essential for repairing worn-out cells, keeping up metabolism, ensuring vitality, and promoting growth. These functions of HGH make it a powerful hormone when it comes to reversing the effects of aging on the body.
What is HGH?
HGH is naturally produced in the body in the pituitary gland. However, as you age, the levels of HGH produced start to decline. Once HGH levels decline, your metabolism slows down which makes it harder to lose weight, cells start to wear out and you start to lose vitality.
Supplements like SeroVital do not contain HGH but rather stimulate the body to naturally produce this hormone.
Once the HGH levels become elevated then the effects of aging can be reversed as well as helping you shed the fat so you can see those abs. 
How Does SeroVital HGH Work
SeroVital is formulated with a special Renewal Complex composed of amino acids, acids, and minerals. These ingredients are effective in stimulating increased production of HGH which helps to reverse the effects of aging.
SeroVital HGH Ingredients
L-Lysine Hydrochloride: This ingredient supports collagen synthesis which is important for skin renewal and healthy bones. It also acts in reducing stress.
L-Arginine Hydrochloride: L-arginine promotes better metabolism and blood circulation in the body for increased vitality. It also has a positive effect on HGH levels
N-Acetyl L-Cysteine: This ingredient helps to boost brain health and prevent cognitive decline caused by aging.
Oxo-Proline: this amino acid plays an important role in reducing oxidative stress which can cause memory decline.
Schizonepeta Powder: This potent herb helps to energize the body and has mood-lifting properties.
L-Glutamine: This amino acid has anti-inflammatory properties and also boosts cell repair and renewal.
Vitamin C. This vitamin is essential in eliminating free radicals and keeping the skin healthy and bright.
Vitamin D: This vitamin is important for healthy and strong bones.
Riboflavin: This ingredient helps to ensure vitality by boosting energy levels in the body.
Zinc: This essential mineral plays an important role in boosting immunity and increasing metabolism.
Selenium. This is a powerful antioxidant that helps to relieve oxidative stress and minimize the risk of age-related cognitive decline.
Copper: this mineral helps to boost the production of HGH hormone and improve oxygen circulation for vitality and strength.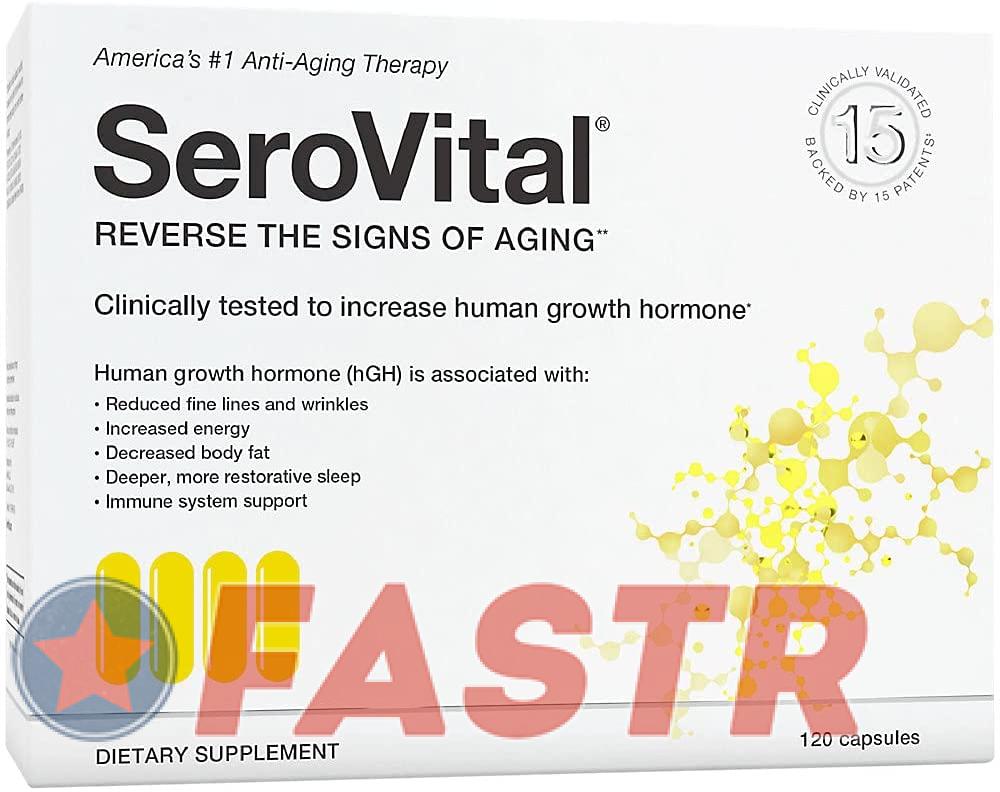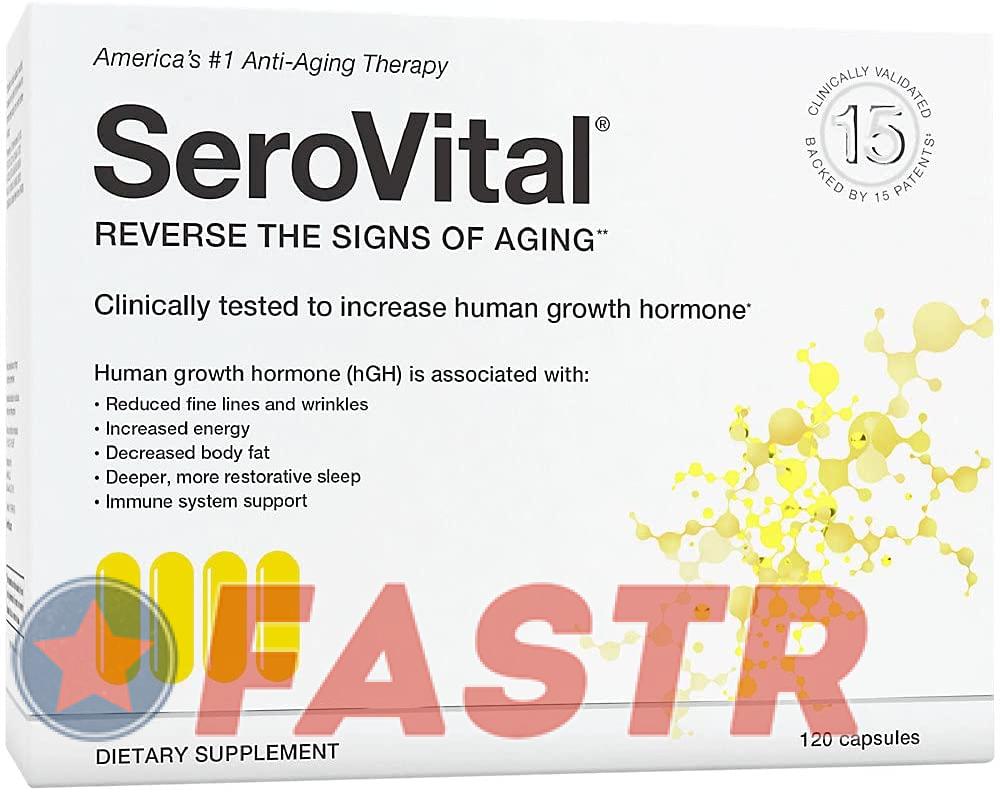 SeroVital HGH Benefits
Boosts metabolism which promotes weight loss
Enhances stamina and helps to boost sex drive
Increases lean muscle mass
Keeps skin looking young by reducing the appearance of wrinkles and fine lines
Boosts energy levels
Has a positive impact on mood
SeroVital HGH Side Effects
SeroVital HGH is formulated with safe natural ingredients and is safe for healthy people. However, some people may experience some side effects.
Stomach pain
Constipation
Diarrhea
Gout
Bloating
Who Would Benefit From SeroVital HGH?
SeroVital HGH is safe and effective for both men and women. Since this supplement has anti-aging benefits, anyone who wants to reverse the signs of aging can take SeroVital. If you are experiencing a decline in metabolism and vitality the effect of SeroVital on HGH production can help to reverse these effects of aging.
SeroVital HGH would also benefit people who are experiencing a decline in sex drive and stamina as a result of aging. This supplement helps to boost sex drive and enhance energy levels in the body for increased strength and vitality.
SeroVital will also benefit people who are having trouble building up lean muscle as they get older. This supplement boosts metabolism to help you burn fat while at the same time helping you retain lean muscle mass.
For people who are experiencing the effects of aging on the skin, the collagen in SeroVital can help to prevent wrinkles and fine lines. Collagen also promotes strong healthy bones.
Real Reviews – Does It Really Work?
SeroVital HGH has a high customer satisfaction rating with a 4/5 rating. This supplement has gotten good reviews from various people including Dr. Oz.
Some User Reviews Indicate:
SeroVital improved the appearance of my skin. My wrinkles are less pronounced and my skin looks much healthier – Karen
It takes time to work but I definitely saw results after consistent use. I feel more energetic and my skin is much brighter – Anne
I have never felt better after taking these supplements for three weeks I have way more energy, losing weight, I feel absolutely wonderfully normal again after going into menopause – Patti
How to Take SeroVital HGH
The recommended dosage of SeroVital is 4 capsules taken with water on an empty stomach. You can take it in the morning 2 hours before breakfast or in the evening 2 hours after dinner. For best results take SeroVital 2 hours before or after food.
You can take the SeroVital for as long as you want to or until you achieve the desired effect. You can expect to start seeing results after about three months.
Consistent use is required for you to reap the full benefits of SeroVital.
When Not to Take SeroVital HGH?
SeroVital is generally safe for healthy people.
However, if you are pregnant or have a medical condition, consult your doctor before taking this supplement and as always be sure to consult a medical professional as everyone is unique.
SeroVital HGH Cost and Where to Buy
SeroVital is available on the official company website as well as Amazon.
One bottle contains a 30-day dose and the best price can be found by clicking below.
Final Conclusion
Aging can slow you down and rob you of vitality and stamina. However, with natural supplements like SeroVital, you can slow down the effects of aging.
By stimulating the HGH, SeroVital helps to stimulate the body's natural anti-aging processes. Healthier bones, higher energy levels, and younger healthier skin are just some of the benefits you can get from this potent anti-aging supplement.
In addition to this, we recommend several other HGH supplements that you can find here.
The HGH Boosters are all broken down so you can see which is a fit for you.